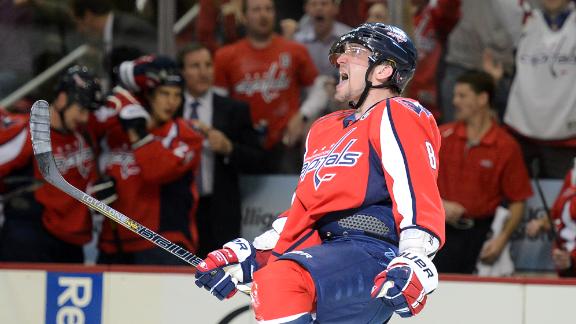 On February 7th, the Capitals looked dead in the water. Washington held a 2-8-1 record that placed them dead last in the NHL standings and looked like anything but a team that was one game away from playing for the 2011-12 Eastern Conference Championship. Superstar Alex Ovechkin had only three goals, playoff standout goalie Braden Holtby's play had returned to earth, the PK unit couldn't kill a carnival gold fish, and one quarter of the way through the shortened NHL season, the Capitals season was essentially over.
Ask a Caps fan today though, and they might try to tell you that those days are a life time in the past.
Recently, the Caps have gotten off the schneid and find themselves with a 84% of making the playoffs according to
SportsClubStats.com
. Washington has a two point lead in the Southeast Division with four games remaining, Ovechkin has roared back from his early season slump and might be playing the best hockey of his career, Holtby has finally convinced a few people he is in fact the same Braden Holtby who played for the Caps during their playoff run last season, and, once again, D.C. has a legitimate Stanley Cup contender in the Washington Capitals.
But with the Capitals late season run comes the agonizing memories Capitals fans have of their team constantly choking away opportunities in the Stanley Cup playoffs. If the Caps want this years Cup dreams to have a different ending then that of their recent nightmares, here is what needs to be done.
Keep Ovechkin Scoring
As predictable and obvious as this first point is, it doesn't mean that it needs to be left unsaid. I could use this next paragraph pointing out some stats that prove my point, but I'll keep it simple for all of us: this Capitals team only goes as far as Ovechkin takes them.
If the goal every three or four game Ovie that we seen at the beginning of this season shows up, Washington may as well accept their first round exit graciously and get a head start on the golf season. But, if somehow, someway, the Capitals get the oh-my-god-how-did-he-score-that-goal-it-should-be-illegal-to-have-a-shot-that-nasty Ovie.... the Capitals are serious Cup contenders in the East. Last year, Ovechkin only netted five goals in 14 playoff games.
Get Good Goalie Play
The main difference between recent Stanley Cup Champion teams and their runner-ups seems to be the man between the pipes. When I say this, Johnathan Quick, Tim Thomas, Antti Niemi, and Chris Osgood should all come to mind. We all know the Caps can out-score anybody more often then not, but what remains a question, is if they can find a consistent-enough net minder to seal the deal.
Holtby played outstanding in the Caps 2012 playoff run finishing with a 1.95 goals against average and .935 save percentage. For the Caps to finally make a deep playoff run, another fantastic outing from Holtby will be mandatory. Holtby has played well this regular season putting up a 20-11 win-loss record and .917 save percentage despite the dreadfully slow start the entire Capitals team suffered.
Play Strong, Tough Hockey
The Capitals are built to play offensive, possession based hockey from head to toe. Washington only has three players in the top 100 hitters in the league (Ovechkin, Troy Brouwer and Matt Hendricks) and give up the 12th most goals per game at 2.77. In a sport where every player transforms himself into the ultimate team player who blocks shots, finishes checks and backchecks as hard as they forecheck come playoff time, the entire Capitals roster will need to buy in and outwork opponents if they hope for a deep playoff run.
Stay Healthy
Unfortunetly for many past Cup contenders, the things that you have the least control over often times are of the most importance, including staying away from the injury bug. Washington's biggest injury this year comes in the form of Brooks Laich (41 pts in 2011-12) who has been limited to only nine games in 2013 due to a lingering groin injury. Other Captials that have dealt with injuries this season include the offensive-blue liner Mike Green (19 pts in 31 games), forward Marcus Johansson (46 pts in 2011-12, currently listed as day-to-day), and defensemen John Erskine (+8 in 26 games).
Injuries will surely strike some where this postseason, the Capitals, like every other playoff team, just have to hope luck is on their side.
Play Discipline
Washington finished the 2010-11 regular season with the second best penalty killing unit in the NHL killing off 85.6% of penalties. That Caps would see that number drop to 81.6% in 2011-12 and now have the third worst PK in the NHL ahead of only Nashville and Florida. Going into the playoffs where games are often decided by one goal, the Capitals number one team priority should be improving the penalty kill. Washington is 14-4 when not giving up a power play goal and have given up two or more power play goals in eight games.
The fact is, Washington's penalty kill unit just isn't all that good and can't expect to see improvement in the playoffs. If the Capitals have any chance of winning the close, hard fought, decided by one bounce of the puck games that the NHL playoffs are famous for, they merely can't afford to take bad penalties.